GM LLE COLLABORATIVE
Local Leaders of Education (LLEs) are successful Headteachers with a proven track record of supporting other schools, and with the capacity to work alongside other heads, to drive forward improvements and build capacity to ensure that improvements can be sustained.
The aim of the Local Leaders of Education Programme is to improve pupil outcomes through partnership working between schools and academies.
Elmridge Primary Teaching School Alliance is a member of the GM LLE Collaborative which is a collaborative partnership of 9 Teaching School Alliances across Greater Manchester.
The purpose of the Collaborative is to train, develop and support aspirant and existing Local leaders of Education building a community of practice across Greater Manchester ensuring the best possible system led support for schools is available.
The GM LLE Collaborative has delivered its aspirant LLE/System Leader training to 3 cohorts of participants, an LLE designation process has followed each round of delivery.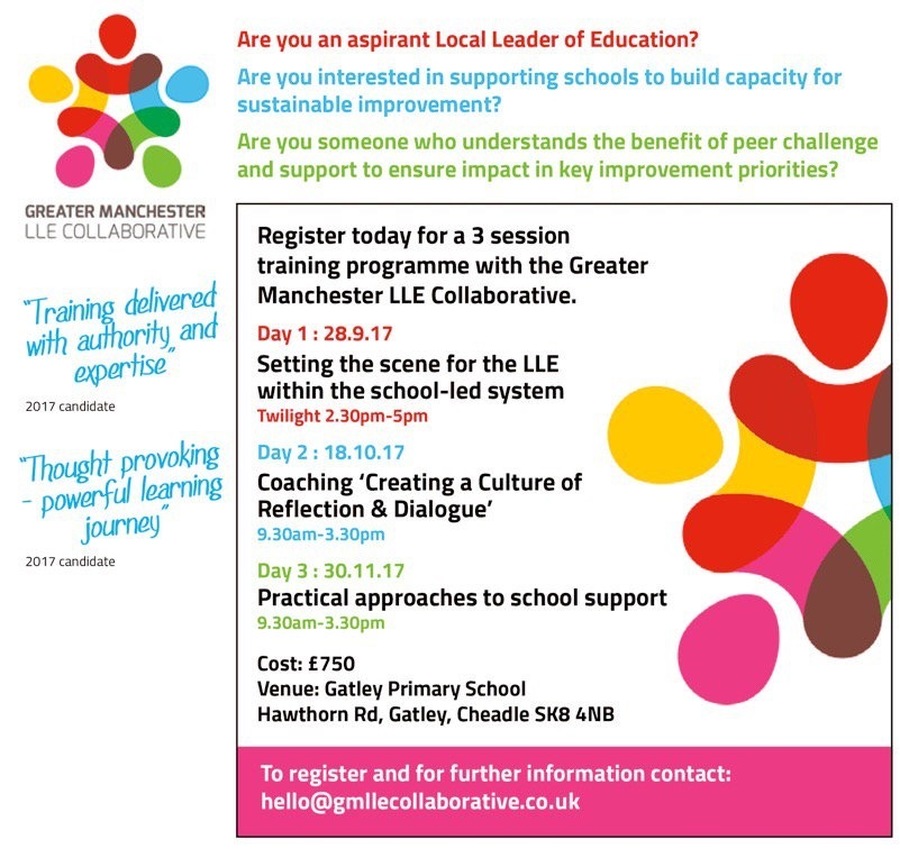 Those LLEs successfully designated through the pilot and GM LLE Collaborative continue to meet regularly and receive on-going development with termly development meetings. These meetings include looking at school-to-school support case studies as well as revisiting successful coaching strategies.
For more information on those LLEs designated by the Collaborative and available to support schools please click here
For more information regarding our innovative work please contact: hello@gmllecollaborative.co.uk